Authentic Police Cases #3.
Wertham mentions a title called "Lessons For Larceny". The title is the slightly-less-alarming "Lessons In Larceny". This picture is from SOTI, page 161.



&nbsp
The folowing comes from Authentic Police Cases #3.


Exposed #7
Dr. Wertham claims this is a "diagram for housebreakers", as seen in this illo from the SOTI illustrations section.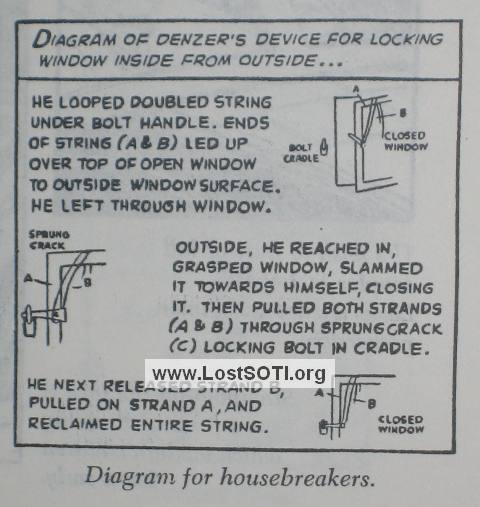 However, the illustration shows how to lock window from outside, not how to break in or out. Although this shows how one might be able to hide a murder, making it look like a suicide, the illustration has nothing to do with housebreaking. The page below is from Exposed #7.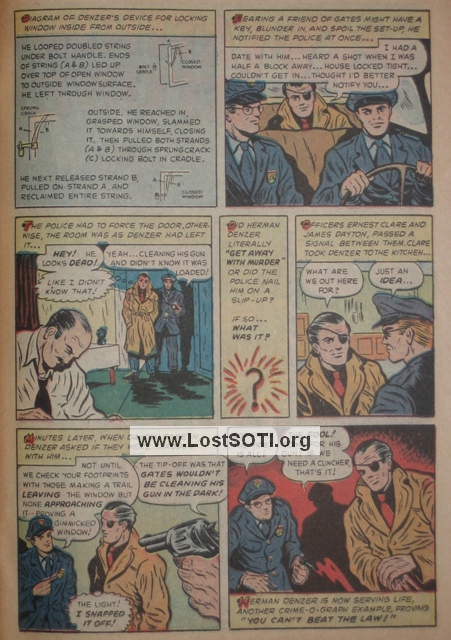 Out of This World Adventures #2
This is what Dr. Wertham had to say about Out of this World Adventures #2, on p. 120 of SOTI: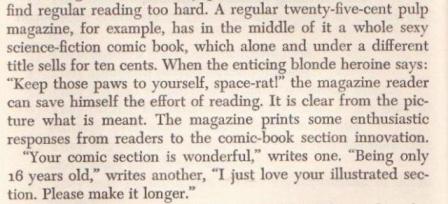 However, when you look at the Out of this World Adventures #2, you see that it was the hero, not the heroine, who says, "Keep those paws to yourself, space-rat!"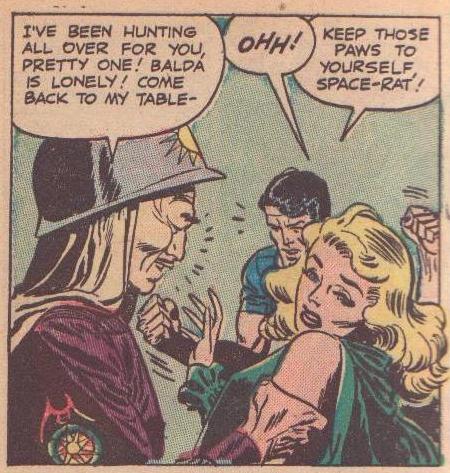 Planet Comics #53


However, a look at Planet #53 shows that the quote is actually "Mate of Auro".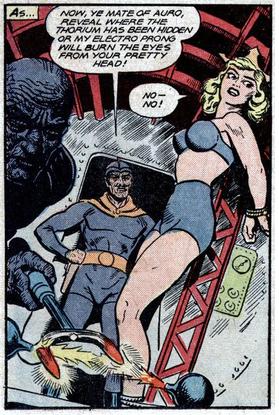 Overstreet Errors
Frontier Romances #1
Overstreet says that there is a "general reference" to this book on p. 180. That's a bit of a stretch.
Although this book is included in the illustrations section of SOTI, page 180 simply reads:

In Western comic books, the erotic spanking of a girl by a man is frankly featured.

Haunt of Fear #23
Overstreet previously claimed (erroneously) that this was a SOTI reference. This was corrected in the 2009 edition of the Overstreet Comic Book Price Guide, after the error was pointed out by the webmaster of SeductionOfTheInnocent.org.
Tom Mix #10
Overstreet previously indicated that #9 and #10 are SOTI books, referenced on pp. 323-325. Actually, only issue #9 is referenced on those pages of SOTI. Overstreet corrected this in the 2009 Overstreet Price Guide, after the webmaster of SeductionOfTheInnocent.org submitted a correction.

Not long ago, it looked
like there was an undiscovered error regarding
Classics Illustrated #44. For the full story, see the Classics Illustrated page.
More to come... as we find 'em!