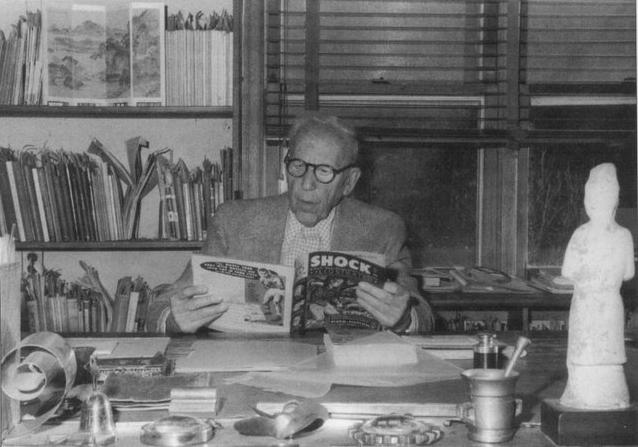 Among comic book aficionados, Dr. Fredric Wertham is often considered to be as slimy and evil as any creature ever to appear in the horror comics he criticized. Wertham did speak out against comic books and it would not be hyperbole to say that his efforts nearly resulted in the death of the entire United States comic book industry. However, Wertham was more than just an outspoken crusader against crime and horror comics. He spent much of his life studying and writing about violence and how to prevent it. Wertham was interested in protecting children from harmful material in comic books, television, and anywhere else negative influences might be found. He wrote an article about the detrimental effects of segregation that was used in the landmark Brown v. Board of Education court case that eventually found segregation to be unconstitutional. He also founded a clinic staffed with volunteers in Harlem, providing mental health services to the black community starting in 1946.
The Early Days
Dr. Fredric Wertham was born Fredric Wertheimer in Munich, Germany, March 20, 1895. He studied at universities in Munich, Erlangen, London and Würzburg, graduating with a medical degree in 1921. In 1922, Wertham emigrated to the United States to teach at Johns Hopkins University and practice at the university's Phipps Psychiatric Clinic. In 1934 his first book, The Brain as an Organ, was published. Wertham's 1941 book Dark Legend was based on the true story of a 17-year-old murderer. In 1946, Wertham established the Lafargue Psychiatric Clinic, serving the black community in Harlem.
The Anti-Comics Crusader
In 1948, Wertham participated in a symposium entitled "The Psychopathology of Comic Books", which also included Gershon Legman, author of Love & Death. Wertham was interviewed for a March, 1948 article, Judith Crist's "Horror in the Nursey", in Collier's magazine, where the doctor criticized the harmful effects of comic books. Shortly therafter, The Saturday Review of Literature published an article authored by Wertham entitled, "The Comics... Very Funny!" Wertham's 1949 book The Show of Violence detailed his involvement with a number of murder trials. In 1954, Ladies' Home Journal published an article entitled "What Parents Don't Know About Comic Books", which was excerpted from the soon-to-be-published Seduction of the Innocent. In the spring of 1954, that infamous tome was published, clocking in at 400 pages plus a 16-page section of illustrations. Although a few copies were distributed with the 2-page bibliography at the end of the book, most copies of the bibliography were removed by the publisher. According to Dr. Wertham, the publisher feared lawsuits from the comics publishers, and ordered the bibliography removed. Shortly after publication of Seduction of the Innocent, or SOTI as it is called among comic book collectors, the United States Senate convened hearings on the harmful effects of comic books as part of its investigation into juvenile delinquency. Among those called to testify at the hearings were EC Publisher Bill Gaines, and Dr. Fredric Wertham. In response to Wertham's high-profile criticisms and the Senate investigation, the comic book industry implemented a self-censorship code, which stated explicitly what could and could not be depicted in comic books.
After "Seduction"
Dr. Wertham's 1956 book, Circle of Guilt, was yet another book about a murder case. In 1966, Wertham's A Sign for Cain was published. It explored the pervasiveness of violence and postulated that it is within human beings' power to eliminate violence. In 1974, his last book was published: The World of Fanzines: A Special Form of Communication. In this book, he analyzed comic book and science fiction fanzines as communication tools. As a result of this book, he was invited to speak at the 1974 New York Comic Art Convention, where he encountered heckling and suspicion. At that point, Wertham stopped writing about comics. Wertham died November 18, 1981.